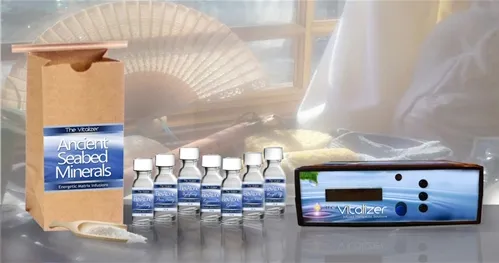 It is believed that the body has the ability to heal itself if the right conditions and proper care are present. The goal of The Vitalizer Therapy™ is to support this philosophy by addressing the physical, mental and emotional state of well-being.
Foot bath technology is a remarkably safe and easy way to stimulate the process of cellular detoxification by activating the biological process of ionization. The renewed sense one gets from standing near a waterfall, or enjoying the environment after a rainstorm, is the same sense of feeling cleansed and refreshed through ionization.

Put simply, this process stimulates cellular functions necessary to transport nutrients across cellular membranes and aid in the elimination of toxins. Although this is a naturally-occurring process, our modern environment impedes the easy elimination of cellular debris by providing constant toxic load through electromagnetic frequencies, additive-laden food, environmental heavy metals, etc.
1. Osmosis Solutions of salt have been known since ancient times for their ability to detoxify the body through the process of osmosis water traveling from a region of high concentration through a semipermeable membrane, to an area of lower water concentration). Cell membranes are semipermeable, and as such, allow small molecules such as oxygen, water, carbon dioxide, and ammonia, glucose, and amino acids to pass through; larger molecules such as sucrose, starch, and proteins however, cannot pass.
2. Ionization of water Ionization of water (electrolysis)Ionization, as referenced above, stimulates detoxification and the feeling of being "cleansed" both physically and energetically. By introducing onization into water combined with an electrolyte (such as NaCl- sodium chloride salt in foot baths), water is broken down into hydrogen and oxygen (called decomposition) and a redox reaction takes place- electrons are moved from one molecule to another. Oxidation is the process of giving up electrons, and reduction is the process of gaining electrons.
BioHarmony is proud to offer The New Human's Vitalizer Pro as our standard in foot bath technology. Paired with our Ancient Seabed Mineral Salts, the Vitalizer Pro foot Bath system generates detoxifying negative ions 35 times more than the average foot bath. In a single 30 minute foot bath, you will see the water color turn from clear to cloudy and dense with color, as mineral impurities are released from the tissue of the body through the surface of the feet.
THE VITALIZER THERAPY IS A COMBINATION OF 3 THERAPIES IN 1.
1ST IS THE CUTTING-EDGE, UNIQUE IONIC FOOT BATH THERAPY THAT PAIRS WITH THE ADVANCED SPECTRAVISION TECHNOLOGY WHICH:
Aids in eliminating built-up toxins

Supports in Boosting the Immune System

Increase cellular absorption through the effects of cellular cleansing

Oxygenation of the cells

Activates the body's elimination systems, including the lymph channels

Hydration of cells
OTHER ASSOCIATED BENEFITS:
Increased Circulation

Reduction in Joint Pain

Clearer Skin

Reduces Stiffness and Inflammation

Improved Sleep Patterns

Promotes Weight Loss

Increased Energy

Aids in Stress Reduction
There are many success stories from people who have improved or resolved health issues after one or more foot bath series. We invite you to be a part of this growing revolution. The Vitalizer Therapy™ stimulates our body's cells into releasing what the physical body is intended to let go of naturally but because of toxic chemical overload and elevated levels of cellular waste within our body struggles to do so on its own.
THE VITALIZER THERAPY™ ENHANCES THESE EFFECTS BY ADDING THE FOLLOWING PROPRIETARY BLENDS TO YOUR THERAPY.
2ND FLEXATONE
FLEXATONE™- The essential oils that are added to the Flexatone Mineral Matrix Solution, creates a unique blend of a multi-dimensional therapy which is added to the Ionic Foot Bath. The therapeutic approach will enhance the foot bath treatment as well as provide an emotional and energetic boost to the body. Flexatone is a unique blend of essential oils and a volcanic ash mineral matrix that enhances cellular communication.
Nature provides the rich aroma and essential oils necessary to carry high vibrations into the tissues and bloodstream. Let your Practitioner determine which of the Ten Flexatone™ Blends is right for you!
*These blends are not recommended for use during pregnancy & nursing with the exception of the Baby on Board. Not for internal use.
STRESS LESS
Rejuvenates cell function. Regulates hormone balance. Tones body systems. Balances and uplifts mood and vitality. Gently heals delicate inner conflicts and deep emotional or stress responses.
*Bergamot *Ylang-Ylang *Clary Sage *Parana Pine *Spruce *Rose Geranium *Hyssop *Cypress *Bay Laurel
CLENZ
Alleviates the symptoms of toxicity by oxygenating the tissues. Assists in detoxifying the inner organs on a cellular level. Increases circulation to allow for proper elimination. Alleviates overall stress and nourishes the respiratory and circulatory systems.
*Orange *Cypress *Fennel *Juniper *Ginger *Rose Geranium *Clary *Sage *Parsley *Carrot Seed *Basil *Thyme
IDEAL WEIGHT
Encourages the body systems to overcome stagnation and end unwanted accumulation. Can help modify cellulite or water retention by moving the blood, cleansing the lymph, and will tone both dermal and epidermal tissues. Ideal Weight promotes the metabolic processes of the skin's surface, to better assimilate toxins and improve overall skin structure.
*Lemon Grass *Cypress *Grapefruit *Palmarosa *Juniper *Parsley *Black Pepper *Patchouli
WELL-BEING
Mood regulating. Evoking peace of mind and spirit. Uplifts and relaxes. Improves mental clarity, fortifies, and detoxifies. Relieves tension. Relaxes and moves the blood. Very Vitalizing.
*Grapefruit *Rosemary *Rose Geranium *Lemon *Petitgrain *Black Pepper *Hyssop *Frankincense *Carrot Seed *Parsley *Cardamom *Coriander *Thyme *Sandalwood *Helichrysum
PAIN AWAY
Assists the Body's healing systems by easing trauma and reducing pain. Relaxes the nervous system gently promoting blood flow and lymphatic drainage. Moves the "chi" gently, while allowing increased energy flow.
*Marjoram *Lavender *Rosemary *Ginger *Rose Geranium *Clementine *Frankincense *Wild Chamomile *Cypress *Nutmeg *Clove *Helichrysum *Citrus *Angelica
WHITE LIGHT
Detoxifies, purifies and enhances vitality. Nourishes the entire system, as it lets out negativity. Heals with soothing, balancing, immune-enhancing, positive forces. Works on the Body, Mind and Spirit and soul to heal spiritually, emotionally and physically.
*Lavender Barreme *Frankincense *Rose Geranium *Palo Santo *Michaelia Alba *Elemi *Myrrh *Artemesia Mugwort *Spikenard
SLEEP WELL
A relaxing blend of oils that takes you to a peaceful, relaxed state of surrender, allowing one to drift away into tranquility. Releases the everyday stresses of life, great in a hot bath, right before bedtime!
*Mandarin *Orange *Pink Grapefruit *Lavender *Rose Geranium *Frankincense *Bulgarian Rose *Neroli Bigarde
CHAKRA CARE
An eclectic mix of essential oils that touches base with the earth, enlightens our perceptions of the physical domain and assists in the ascension of our spiritual enlightenment. Balances and unifies the chakras.
*Lavender *Barreme *Elemi *Clary Sage *Marjoram *Grapefruit *Orange *Patchouli Light
AGELESS
A nutritive, cellular-regenerating complex of pure essential oils to reduce wrinkling and deterioration of the effects of sunburn and/or other damage to the skin, due to environmental factors or just natural aging. Application will calm and soothe the nerves, while nourishing the skin's structure and healing from the outside in.
*Lavender Provence *Rose Geranium *Palmarosa *Rosemary *Lemon *Frankincense *Carrot Seed *Myrrh *Juniper
BREATHEEZ
Helps alleviate the symptoms of asthma by oxygenating and soothing the entire respiratory system. Enhances Lung performance while clearing the sinuses. Assists in detoxifying the inner organs on a cellular level. Eases the symptoms of ulcers and increases circulation.
*Rosemary *Eucalyptus *Bergamot *Juniper *Frankincense *Sage *Marjoram *Myrtle *Cedar wood *Lime *Lemon *Hyssop
3RD THE ANCIENT SEA BED MINERALS
RICH IN A CHLORIDE BALANCING MINERAL BASE
These special salts are natural crystals containing various minerals of a relaxing and healing nature. The Salts' texture, heat conductivity and other virtues (usually along with immersion in water) improve blood circulation, exfoliate the skin of dead cells (when roughly applied with small amounts of water), and increase the skin's metabolism. Due to these actions, the whole body feels relaxed. It has been proven that these Salts relieve aching muscles and joints caused by arthritis, rheumatism, and aids in the healing of psoriasis and eczema when combined with emotional release and stress reduction.
MINERAL RICH FOUR-CHLORIDES BASE
*Magnesium Chloride is essential for cell metabolism, relaxation and sugar metabolism. Deficiencies in Magnesium have been discovered in the skin's layers and serum of patients with psoriasis. Magnesium is responsible for over 300 metabolic enzymatic functions and deficiency in magnesium has been linked to asthma and allergy symptoms.
*Potassium Chloride improves the oxidation and regulates the electrical process of the muscles and the nervous system. Potassium is valuable for reducing blood pressure and eliminating excess fluids from the tissues.
*Sodium Chloride creates Sodium ions. After penetrating into the skin, they bind the water and generate a feeling of suppleness, ideal for very dry skin. This blend of Sodium and Chloride is not heat treated. Traditional Sodium Chloride (Table Salt) manufacturing process creates a strong bond of the two minerals so tightly that the body cannot split them apart. As such, Table Salt is more of a toxin than providing any healing benefits.
*Chloride is necessary to maintain the correct balance of alkaline and acid in the body, together with being vital for cell metabolism. Chloride is responsible for creating the HCL of the stomach lining and eliminating acid reflux.
*Ancient Sea Bed Salts The highest mineral content salts necessary to promote the greatest balanced healing through absorption and transduction of ions. Known the world over for their therapeutic properties, Dead Sea Bath Salts have been used for centuries to provide an All Natural, Temporary Relief For: Aches & Pains * Stress* Muscle Tension * Dry, Itchy Skin
WHILE ALSO PROMOTING:
Healthy Circulation * Healthy Immune Function
Adding Flexatone to the Ionic Footbath which includes the Ancient Sea Bed Minerals offers a complete therapy!
**Utilizing the SpectraVision Technology or any other electrical balancing technology will greatly enhance the health benefits of your Foot Bath Therapy. Once the energetic blocks are corrected, we must replenish ATP in the cells; we support this through our Genophasic Therapy, but there is no better support for replenishing electrons than Foot Bath Therapy!
Come Try the Vitalizer Pro Foot Bath today, and Discover the Wonderful Health Benefits it has to Offer!